"A Broom of One's Own"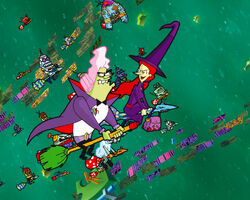 Original air date
October 6, 2005
Directed by
Larry Jacobs
Written by
Ronnie Krauss
George Arthur Bloom
Kristin Laskas Martin
Topic
Speed
"A Broom of One's Own" is the ninth episode of Season 4 of Cyberchase. It originally aired on October 6, 2005.
The episode won a CINE Golden Eagle Award in 2006, in the category "Professional Telecast Non-Fiction Division: Children's Programs"[1].
Characters
Locations
Plot
When Wicked puts a CyberSquad Seal of Approval on her new "Wickedy Brooms," it's up to Matt, Jackie, Inez and Digit to make sure the brooms are as good as Wicked claims. They try them out, figuring out their speed – how far the different brooms go in a given amount of time. The brooms pass the test – but Wicked doesn't. They must race to Control Central and save Motherboard before Wicked's scheme succeeds! And where's Hacker? And what will he do when he finds out Wicked is trying to take over his turf?
Extras
Memes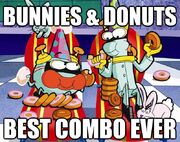 Buzz & Delete having donuts with bunnies is National Donut Day as seen on The Cyberchase Facebook page
Transcript
Main article:

A Broom of One's Own/Transcript
Gallery
Trivia
Delete wanting the broom so he can be "sheep" (misunderstanding the word chic) may be meant to foreshadow the brooms' mind-control abilities.
External links
PBS KIDS - Cyberchase Videos - A Broom of One's Own
References