Line 1:
Line 1:
 
+

{{Episode

⚫
 
 
+

|season=11

−

{{Episode|season = 11|number = 3|previous = "[[Creech's Creature Quandary]]"|next = "[[Plantasaurus!]]"|airdate = December 27, 2017|writer = Adam Rudman

 
 
+

|number=3

⚫
 
 
+

|image=Cyber S11 010.jpg

 
+

|airdate=December 27, 2017

 
+

|writer=Adam Rudman<br />George Arthur Bloom

 
⚫
 
+

|previous="[[Creech's Creature Quandary]]"

 
+

|next="[[Plantasaurus!]]"

 
+

}}

 
+

"'''A Murky Mystery In Mermaidos'''" is the third episode of [[Season 11]] of ''[[Cyberchase]]''.

 
+
 
+

==Characters==

 
+

*[[Buzz]]

 
+

*[[Delete]]

 
+

*[[Digit]]

 
+

*[[Eugene]]

 
+

*[[Eugene's parents]]

 
+

*[[Hacker]]

 
+

*[[Inez]]

 
+

*[[Jackie]]

 
+

*[[Matt]]

 
+

*[[Mayor Ethel Mermaid]]

 
+

*[[Ms. Snail]]

 
+

*[[Slimey]]

 
+
 
⚫
 
+

{{incomplete}}

 
 
 

==Trivia==

 

==Trivia==
---
Revision as of 23:04, 25 January 2020
"A Murky Mystery in Mermaidos"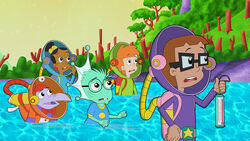 Original air date
December 27, 2017
Directed by
Jason Groh
Written by
Adam Rudman
George Arthur Bloom
Topic
Unknown
"A Murky Mystery In Mermaidos" is the third episode of Season 11 of Cyberchase.
Characters
Plot
This article or section is incomplete.
Please add information to improve its coverage and accuracy.
Trivia
This is the first episode that begins with "M" (articles not included) since the fourth season episode, Measure for Measure.
Community content is available under
CC-BY-SA
unless otherwise noted.