"A Tikiville Turkey Day"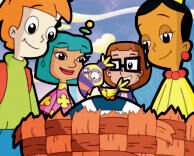 today
Original air date
October 7, 2005
person
Directed by
Larry Jacobs
person
Written by
Louise Gikow
George Arthur Bloom
Kristin Laskas Martin
calculate
Topic
Patterns in nature
"A Tikiville Turkey Day" is the tenth and final episode of Season 4 of Cyberchase. It originally aired on October 7, 2005.
Characters
Main Characters
Recurring/Minor Characters
Places
Plot
Hacker steals the legendary Egg of Benedicta – and the lush landscape of Tikiville wilts and turns brown.  The spirit of the Tikians is crushed and Creech is in big trouble unless the CyberSquad can help! When their attempt to recover the Egg from Hacker fails, they hatch a new plan to replace the Egg. By studying patterns in nature, can they recreate the nest and restore peace and harmony to Tikiville?
Trivia
Extras
Transcript
Gallery
External Links