"And They Counted Happily Ever After"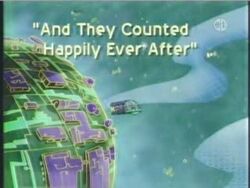 Original air date
January 30, 2002
Directed by
Larry Jacobs
Written by
Brian Meehl
George Arthur Bloom
Kristin Laskas Martin
Topic
Numbers
"And They Counted Happily Ever After" is the eighth episode of Season 1 of Cyberchase. It originally aired on January 30, 2002.
Characters
Places
Plot
Hacker kidnaps the King of this fractured fairy tale world, and demands a ransom of golden eggs. The Wicked Witch then casts a spell, taking away everyone's ability to count and making it impossible for the fairy tale folk to gather the required large number of eggs. With the safety of the King at stake, the kids must help the fairy tale folk understand the role of place value in our number system before time runs out!
Extras
Transcript
Gallery
External links
PBS KIDS - Cyberchase Videos - And They Counted Happily Ever After