"Balancing Act"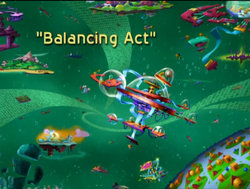 today
Original air date
April 15, 2005
person
Directed by
Larry Jacobs
person
Written by
Barry Harman
George Arthur Bloom
Kristin Laskas Martin
"Balancing Act" is the first episode of Season 4 of Cyberchase. It originally aired on April 15, 2005, during the Cyberchase: Know Your Dough Marathon[1][2].
In the marathon, Harry introduces it as "The Balancing Act", with his voice overlapping the title card[3]. Later airings lack this.
Characters
Locations
Plot
Shari Spotter is selected by Headmaster Stumblesnore to make a film about Frogsnorts. Matt is the director, Inez and Jackie the writers, and Digit is the camerabird. The team collaborates well until they realize they're spending too much too fast. The solution: create a budget. Their efforts are complicated by The Hacker, who places Stumblesnore under a spell in an effort to become the new headmaster of Frogsnorts.
Trivia
Inez does not brush off Matt for calling her Nezzie in this episode.
Errors
At 5:17 of Act 1, Shari's glasses are miscolored red instead of purple.
Extras
Dody's Poems
"Listen to Dody. This is day one. First day of shooting has begun."
"Second day of shooting. Ready to start. But we're watching what we spend now. Check out the chart!"
"Third day of shooting. No way to fudget. To finish our film, we must stay on budget!"
"Fourth day of shooting. It should be a hoot. We have enough money to finish the shoot."
"I don't know. Maybe you might. The Old Maid of Greylocks likes a good fight."
"It's day five. We've got the goods. Pretty soon, we'll be out of the woods. I hope."
"The cost was nothing. Make that a zero. What a little mud! The Didge is a hero."
Transcript
Main article:

Balancing Act/Transcript
Gallery
References
External links