"Be Reasonable"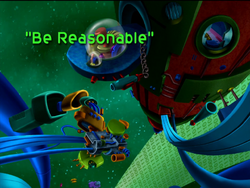 today
Original air date
September 30, 2004
person
Directed by
Larry Jacobs
person
Written by
Dave Dias
Kristin Laskas Martin
George Arthur Bloom
calculate
Topic
Deductive reasoning
"Be Reasonable" is the eighth episode of Season 3 of Cyberchase. It originally aired on September 30, 2004.
Characters
Main Characters
Locations
Plot
Hacker returns to wreak his revenge on Ms. Fileshare and hides her away in the Cybrary. Jackie, Matt, Inez and Digit must use deductive reasoning to sort through a maze of confusing facts to find Ms. Fileshare and help her escape. If they fail, that beastly 'borg will steal the Cybrary's most precious books – that reveal the most secret inner-workings of Motherboard!
Extras
Transcript
Main article: Be Reasonable/transcript
Trivia
Ms. Fileshare says Digit's name as "Mr. DeBoid," but it's truly Digit LeBoid.
Gallery
External Links