"Buzz And The Tree"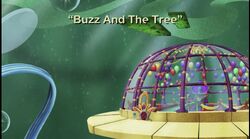 today
Original air date
April 29, 2022
"Buzz And The Tree", capitalized as "Buzz and the Tree" in some episode listings, is the sixth episode of Season 13 of Cyberchase. It originally aired on April 29, 2022 in observance of Arbor Day[1], which the episode reveals is also Digit's birthday.
It is the first episode in which Hacker does not appear beyond the title sequence, although he is mentioned, and the opening credits still list Christopher Lloyd for the role. Unlike the later "A Garden is Born", Buzz and Delete do not take his role as antagonists, instead cooperating with the CyberSquad. The main conflict involves the bots trying to mend their friendship.
Characters
construction
This article or section is
incomplete
.
Please add information to improve its coverage and accuracy.
Locations
Plot
It's Arbor Day in Cyberspace—a special day to plant a tree for a best friend–but Buzz has other plans. Concerned that Buzz is absorbed by his video game, "The Terrific Tree", Delete calls on the CyberSquad to help get his best buddy back. They head out to the forest and use Buzz's knowledge of trees learned from his video game to help Delete pick the perfect tree to plant in Buzz's honor.[2]
The CyberSquad and Motherboard are throwing a surprise party for Digit's birthday at Control Central, complete with carrot cake, his favorite. Inez mentions that it is also Arbor Day. Digit agrees to plant some trees after they have cake.
Just then, Delete calls Digit to ask for the CyberSquad's help. Buzz is engrossed in a video game named Terrific Tree, and Delete fears that they aren't friends anymore. He is so upset that he starts crying. Digit is suspicious that Hacker is planning to trick the CyberSquad, but they and Motherboard ask him to hear Delete out. Delete reassures them that Hacker is away checking out a new part for the Grim Wreaker.
Once the CyberSquad has taken a portal to the Northern Frontier, Jackie thinks to connect to Buzz's enjoyment of the game and redirect it into planting a real tree for Arbor Day. They go to the Northern Frontier Forest. Buzz gradually becomes more social and has gleaned a surprising amount of knowledge about trees from the game.
Buzz wants to plant a tree that is very similar to his game tree. He describes that it has big, strong, thick branches, bark with rough deep grooves that is good for climbing, and serrate oval leaves with pointed tips. The group tries to find a tree to match, but Buzz proves picky. Eventually Delete finds a Sprucesmore that matches Buzz's description.
Buzz chooses the Sprucesmore as his tree, but still wants to find another tree to plant in Delete's honor. They go to consult Guy the Garden Guy. The CyberSquad tells Guy that there is ample sunlight and space, and the right climate. Guy gives them a Sprucemore sapling, and they plant it properly.
While the bots wait for Delete's tree to grow, they help each other start climbing Buzz's. Buzz apologizes for ignoring Delete and assures him they were still friends. He says that he still might want to play his game, which Delete is okay with, but offers to play the multiplayer mode with Delete.
The CyberSquad wishes them a happy Arbor Day as Digit calls for a portal home. Meanwhile, Buzz and Delete are partway up the tree and resolve to work up to reaching the top on another day. They watch the sunset as birds chirp.
Back at Control Central, Digit calls the day one of his best birthdays ever—and the longest. Matt remembers Digit's present: a "Digitree" sent by Guy the Garden Guy, which vaguely resembles him. Digit introduces himself to his new tree.
Educational topic
Plant trees where there aren't any and they will give back in surprising ways.[2]
Transcript
Main article:

Buzz and the Tree/transcript
Gallery
References