"Castleblanca"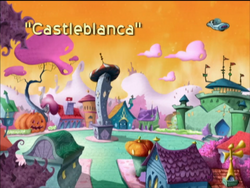 Original air date
January 22, 2002
Directed by
Larry Jacobs
Written by
Dan Elish
George Arthur Bloom
Topic
Surveys
"Castleblanca" is the second episode of Season 1 of Cyberchase. It originally aired on January 22, 2002.
Characters
Locations
Plot
Dr. Marbles is captured by Hacker and taken to Castleblanca, a Cyberspace version of Transylvania. Hacker's goal: transfer Marbles' brain power into his newly built robot named Megabyte! Summoned by Motherboard, the kids and Digit arrive with the knowledge that Hacker has taken Marbles to a castle, but which one? There are hundreds and hundreds of castles. To find Marbles, the kids must master the art of properly collecting data, organizing it and graphing the results — results that are sometimes surprising!
Errors
As the CyberSquad talks to Motherboard towards the beginning of the episode, Inez and Jackie's voices are swapped.
In one scene, Matt's cel is positioned too high, so that a stroke where the coloring ends is visible.
Extras
Math topic: Collecting Data
Transcript
Main article: Castleblanca (episode)/transcript
Gallery
Main article: Castleblanca (episode)/gallery
External links