"Chaos as Usual"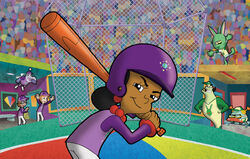 today
Original air date
April 11, 2008
person
Directed by
Brandon Lloyd
person
Written by
Brian Meehl
George Arthur Bloom
calculate
Topic
Math in Sports: Data Collection
"Chaos as Usual" is the ninth episode of Season 6 of Cyberchase.
Plot
Introducing Memoryville, home to a vast storehouse of Cyberspace data, where The Slugball Open, a Cyberspace version of baseball, is in progress.  In their attempt to win for a day the Key to the City, Team Motherboard has made it to the finals … along with, you guessed it, Hacker! Unbeknownst to most (except, of course, to Hacker), this Key opens all doors to the city—including the door to the data storehouse! With surefire plans to win, Hacker can hardly wait to delete the data and create untold chaos. Undaunted by the awesome array of Hacker's bad guys, Team Motherboard discovers distinctive patterns to these nefarious sluggers' past performances. But can the hit charts they develop be enough to help the good guys win?
Trivia
Gallery
External links
PBS KIDS - Cyberchase Videos - Chaos as Usual
short_text
This article is a
stub
.
Please help expand it.