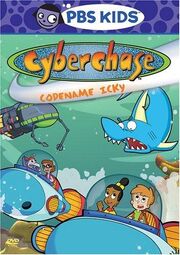 Codename: Icky is a Cyberchase DVD release containing the episodes "Codename: Icky", "Harriet Hippo and the Mean Green", and "Of All the Luck". It was released on August 3, 2004.
Blurb
See if Hacker is able to drain all of Motherboard's energy in this compelling dvd. There's a new virus going around and Digit and the kids don't want Icky to be captured. Fun adventures are just waiting to be discovered in this Cyberchase Codename Icky DVD.

Your child can step into the Cyberchase action in this awesome and adventurous tale. Icky, the cyber-slug, is exactly what Hacker needs to disable Motherboard. Find out what happens next as Digit and the kids try to collect all of the Ten Lucky Charms of Cyberspace.[1]
Gallery
References