"Cool It"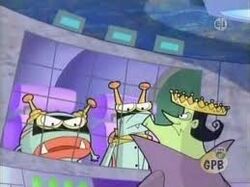 Original air date
February 7, 2002
Directed by
Larry Jacobs
Written by
Robert Schechter
George Arthur Bloom
Topic
Liquid volume
"Cool It" is the 14th episode of the first season of Cyberchase. It originally aired on February 7, 2002.
Characters
Main Characters
Recurring/Minor Characters
Places
Plot
Determined to destroy Motherboard in any way possible, Hacker cleverly clogs up her cooling system. Digit brings the kids into Cyberspace to help fix her, but the special coolant Motherboard needs, cryoxide, is found only in Castleblanca, and the supply is closely monitored! To bring back exactly enough cryoxide for Motherboard, the kids have to figure out the exact volume of Motherboard's tank. In the process, they discover the importance of a standard unit of measure and fill a most unusual container with the precious cryoxide.
Extras
Math Topic: "Cool It" talks about liquid volume.
For Real Segment: "Bianca's Babysitting Blues" - Bianca looks forward to babysitting for twins. In her attempt to give each the same amount of formula, she discovers that all the baby bottles are different shapes. She uses knowledge of width and volume to figure it out.
Trivia
When Buzz and Delete give Motherboard the cryoxide, Buzz waves to the security camera after he drains Motherboard's tank. However, in the security camera's video, Buzz waves before he drains Motherboard's tank.
Hacker is only featured once throughout the episode, and that is where he is trying to figure out what crown to where as the new ruler of Cyberspace.
In This Episode, Motherboard Sings Coming Round The Mountain
Transcript
External Links
PBS KIDS - Cyberchase Videos - Cool It
Gallery
Storyboards
Screenshots
External links
Community content is available under
CC-BY-SA
unless otherwise noted.