"Creech's Creature Quandary"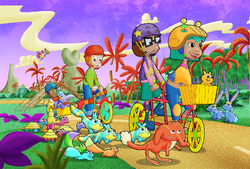 today
Original air date
December 26, 2017
person
Written by
Jill Cozza-Turner
calculate
Topic
Habitat fragmentation
"Creech's Creature Quandary" is the second episode of Season 11 of Cyberchase.
Plot
Characters
Locations
Memorable quotes
Hacker: Ahh, Miss Jackie, really. I'm sincerely hurt by your unwarranted accusation.
Matt: You're never sincere about anything.
Gallery
short_text
This article is a
stub
.
Please help expand it.