(8 intermediate revisions by 3 users not shown)
Line 1:
Line 1:
 
+

{{Episode

⚫
 
 
+

|season=11

−

{{Episode|season = 11|number = 2|previous = "[[Watts on Halloween Trouble]]"|next = "[[A Murky Mystery In Mermaidos]]"|airdate = December 26, 2017|writer = Adam Rudman

 
 
+

|number=2

⚫
 
 
+

|image=CYBR1102 Creech sCreatureQuandary 1.png

 
+

|airdate=December 26, 2017

 
+

|writer=Adam Rudman<br />George Arthur Bloom

 
⚫
 
+

|topic=Habitat fragmentation

 
+

|previous="[[Watts of Halloween Trouble]]"

 
+

|next="[[A Murky Mystery In Mermaidos]]"

 
+

}}"'''Creech's Creature Quandary'''" is the second episode of [[Season 11]] of ''[[Cyberchase]]''.

 
+
 
⚫
 
+
 
+

==Characters==

 
+
 
+

==Memorable quotes==

 
+

'''Hacker:''' Ahh, Miss Jackie, really. I'm sincerely hurt by your unwarranted accusation.

 
+
 
+

'''Matt:''' You're never sincere about anything.

 
+
 
+

{{Stub}}

 
+

==Gallery==

 
+

<gallery>

 
+

Creech's Creature Quandary Title Card.png|"Creech's Creature Quandary" Title Card

 
+

</gallery>

 
+

[[Category:Episodes]]

 
+

[[Category:Season 11 episodes]]
---
Revision as of 05:10, 19 June 2020
"Creech's Creature Quandary"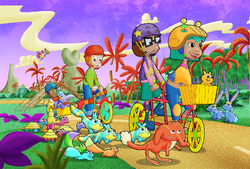 Original air date
December 26, 2017
Directed by
Jason Groh
Written by
Adam Rudman
George Arthur Bloom
Topic
Habitat fragmentation
"Creech's Creature Quandary" is the second episode of Season 11 of Cyberchase.
Plot
Characters
Memorable quotes
Hacker: Ahh, Miss Jackie, really. I'm sincerely hurt by your unwarranted accusation.
Matt: You're never sincere about anything.
This article is a stub.
Please help expand it.
Gallery