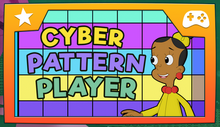 Cyber Pattern Player is a game available on Cyberchase Online, based on "Out of Sync". It was removed in the 2019 redesign, but was updated and added again on April 30, 2020[1].
Gameplay
Cyber Pattern Player is a drum grid with 16 beats and five sound packs of six instruments each, including harp and cowbell, marimba, tabla, steel drum, and bass marimba. The player can tap grid squares to add or remove notes, creating a visual and musical pattern.
There are over
possible patterns, counting all identical layouts on different sound packs as different patterns.
References
This article is a stub.
Please help expand it.