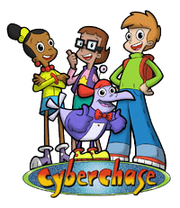 This article is incomplete-you can help by expanding it
Cyberchase is a hit TV series for PBS Kids and Qubo. It is designed for children of ages 10-12. Nelvana produced seasons 1-5, while Title Entertainment Inc. produced seasons 6-11. Cyberchase stars three Earth children in the real world who get warped into the Internet using a library computer. They then have to stop the dastardly Hacker in a number of mathematical and, in some episodes, especially in the ninth season, scientific ways. In every episode, the kids win after a certain amount of time, usually within one episode. The only time where it took them longer than one episode was in The Cyberchase Movie and The Snelfu Snafu. The show starred three Earth children—Jackie, Matt, and Inez, and their various cybernetic allies, especially the cyborg bird Digit and the leader of Cyberspace, Motherboard. Qubo aired this a long time ago, but PBS kids still has this. Qubo got rid of it, but there are videos from Qubo of Cyberchase. Qubo announced they'll bring it back at some point.
Appearances
"And They Counted Happily Ever After"
"Secrets of Symmetria"
"Eureeka"
"Cool It"
"Problem Solving in Shangri-La"
"Harriet Hippo and the Mean Green"
"A Whale of a Tale"
"The Creech Who Would Be Crowned"
"The Grapes of Plath"
"Be Reasonable"
"Shari Spotter and the Cosmic Crumpets"
"A Charge of Art"
"The Case of the Missing Memory
"The Fairy Borg Father"
"The Flying Parallinis"
"The Emperor Has Snow Clothes"
"Face-Off"
"An Urchin Matter"
"Going Solar"
"Trash Creep"
"The Cyberchase Movie"
Community content is available under
CC-BY-SA
unless otherwise noted.