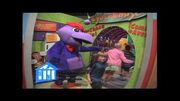 Cyberchase—The Chase is On! (Spanish: Cyberchase: ¡Comienza la Aventura![1]) is an English–Spanish bilingual, 1,500-foot, multimedia museum exhibit based on Cyberchase. It was developed by the Children's Museum of Houston, and is permanently installed on the lower level. The exhibit has toured the United States of America.[2][3]
The Chase is On! is targeted at children from five to ten years old, and their families and teachers. It includes 23 activities.[4]
Activities
This article or section is incomplete.
Please add information to improve its coverage and accuracy.
Cybercycle: Visitors restore energy to Motherboard's reserve.
Dragon Dilemma: Visitors must make a strategy to win the game.
Flip It, Turn It, Fit it In: Visitors explore different shapes and how they fit together.
Jimayan Mystery (Spanish: El misterio Jimaya): Visitors use place value and algebraic reasoning.
Penguin Hockey (Spanish: El Hockey del Pingüino): Visitors use angles to maneuver the puck around the icebergs.
Playing with Patterns: Visitors create a musical pattern to play a song.
Poddleville Family Patterns: Visitors match Poddlings to their families.
Poddle Identification, or Who's Who in Poddleville? (Spanish: ¿Quién es quién en Poddleville?): Visitors identify Poddles by weight.
Poddleville Line-Up (Spanish: La alineación de Poddleville): Visitors match suspects with witness descriptions.
Rebuild Eureeka: Visitors sort shapes by shape or color.
Restore the Power: Visitors combine fractions to restore Motherboard's power.
Stop the Launch
Characters
Locations
Gallery
References
Community content is available under
CC-BY-SA
unless otherwise noted.