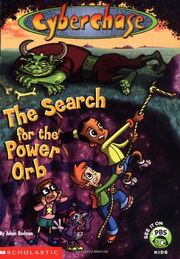 Cyberchase: The Search for the Power Orb is a Cyberchase tie-in novel published in 2003, written by Adam Rudman and illustrated by Matthew Stoddart[1].
The book involves cryptography and includes games and puzzles[2][3].
Characters
Locations
Plot
This article or section is incomplete.
Please add information to improve its coverage and accuracy.
When the carelessness of Izzy, the guard's son, allows the Hacker to steal the Power Orb from Serentia that the villain plans to use to take over cyberspace, Jackie, Matt, and Inez are brought in from Earth to help Izzy get it back.[5]
At one point in the story, Izzy wishes using the Power Orb for he and the CyberSquad to fly back to the Cybercruiser 6.[4]
Chapter 1: Hacker Strikes Again
Chapter 2: Motherboard's Message
Chapter 3: Trouble in Serentia
Chapter 4: Power for Sale
Chapter 5: Lost Power
Chapter 6: The Hunt Begins
Chapter 7: Doomed to Be Deleted
Chapter 8: Trolls
Chapter 9: The Portal
Chapter 10: Mount Doom
Chapter 11: The Ghost Ship
Chapter 12: Izzy Loses It
Chapter 13: Power Outage
Trivia
On the book cover, the CyberSquad is seen climbing a rope to get out of a hole. In the book, they climb

cyberhookworms

to get out of the pit.
References