Jurassic World: Dominion Dominates Fandom Wikis - The Loop
Play Sound
construction
This article or section is
incomplete
.
Please add information to improve its coverage and accuracy.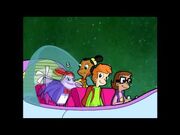 Cyberchase Online is the Cyberchase website, located at pbskids.org/cyberchase. It has often been positioned as a continuation of the on-air series, and much of the original content is directly inspired by individual episodes of the show.
Cyberchase Online hosts supplementary games and activities, and lets viewers watch limited full Cyberchase episodes, Cyberchase For Real segments, and minisodes. Most episodes are split into acts, with a rotating selection of full episodes. Former versions of the website also hosted character bios[1][2], outreach and promotional materials[3], and other interactive content.
Cyberchase Online also exists in Cyberchase For Real according to "Bianca Goes Where the Wind Blows", in which it is called "the Cyberchase Web site."
History
An online component of Cyberchase was planned as early as the original pilot demo[4]. This may have been pursued to tie into the show's virtual setting of Cyberspace.
The website has undergone several redesigns that often improved the layout and responsiveness while deprecating some of the available content.
One major redesign, titled Cyberchase: The Next Frontier, was implemented around 2011[5][6].
The website was redesigned again in 2018, which removed many sections, features, and pieces of content. The deprecation of Adobe Flash Player and the announcement of its eventual discontinuation may have influenced the removal of certain games that were developed in Adobe Flash. Some content has since been converted to modern formats and added back to the website, sometimes with added accessibility features and other changes from their original versions.
Activities
100 or Bust

†

2D to 3D Morphing

Activity Book

†

Batter Up!

Be Part of the Solution

†

Bianca's Body Math

Boredom Buster

Build a Better Bunny Copter

Buzz Flip Book

Chocoberry Chillers Recipe

†

Chomp, Nibble, Grow, Grow, Grow Game

Coloring Sheet CyberSquad

Coloring Sheet Kids In Coupe

Cool It!

†

Cyber-Sudoku

†

CyberOlympic Card Game

Digit's Cyber-Dough Recipe

Dot Decoder

†

Go for the Goal!

†

Gollywood Squares Game

†

Gotcha Game

Halloween Mask - Digit

Halloween Mask - Inez

Halloween Mask - Jackie

Halloween Mask - Matt

Holiday Ornament

†

How Windy Is It?

I've Got Your Number

†

Let's Dew It!

Let's Go Shopping

Lifting with Levers

†

Make a Buzz Bank

Make a Buzz Cake

†

Make a Möbius Strip

Make a Pinwheel

Make a Pop-Up Card!

Make a Savings Diary

Make a Thaumatrope

Make a Tikiville Teepee

Make Bianca's Stuffed Pig

Make Ice Cream!

†

Make Matt's Coder/Decoder

Make Rock Candy Crystals

†

Make Ziff's Carpenter's Square

†

Mother's Day Card

†

Nature Walk Notebook

Party Glasses

Pet Preferences

†

Power Up! Game

Robot Retriever

Scavenger Hunt

Shadow Math

†

Six Holes of Arachnipod Crossing

†

Square One

†

Top Flight

Trash Dash Game

Valentine's Day Cards

What's the Temperature?

†

You Be the Judge!

†
† This item has been removed from Cyberchase Online since the Next Frontier[7].
En español
Búsqueda del tesoro de la temperatura

Conservación del agua

Deforestación

Diseña tu propio superheroe en forma de planta

Huerto de frutas y verduras en macetas

Juego del hábitat

¡Polinizadores!
Games
Airlines Builder

†

Can't Wait to Tessellate

†

Crack Digit's Code

†

Crack Hacker's Safe

Crossing the River

†

Cyberchase Squares

†

CyberOlympics

†

CyberSquad and the Eye of Rom

†

Disguise Combos

†

Double the Donuts

Duck Dash

Glowla's Estimation Contraption

Inventors' Workshop

†

Jigsaw Puzzle Size Up

†

Lost in the Northern Frontier

†

Lucky Star

†

Maze and Marbles

†

Melvin's Make a Match

†

Mission Magnetite

†

Number Sense

†

Point Out the View

†

Pour to Score

†

Railroad Repair

†

Rescue Ecotopia!

Save the Park!

Send in the Trolls

†

Sleuths on the Loose

†

Space Coupe to the Rescue

†

Star Gazing

†

Stop that Creature

†

Talking Calculator

†

Tangram Game

Thirteen Ways of Looking at a Half

Together Again

†

U Fix It with Ziff

†

Virtual Coin Toss

†
Vortex! †
† This item has been removed from Cyberchase Online since the Next Frontier[8].
Outreach
Cyberchase Online used to have an Outreach section, which hosted content such as promotional materials and official artwork. Many of the downloads are now lost or difficult to find elsewhere, as they were not archived onto the Internet Archive Wayback Machine before this section of Cyberchase Online was replaced.[9]
Gallery
PDFs
To view a PDF, press the thumbnail.
Screenshots
References