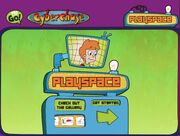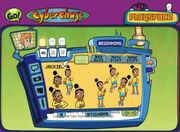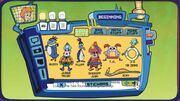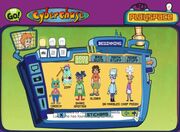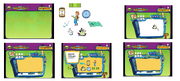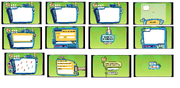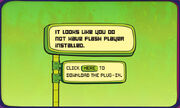 Cyberchase PlaySpace was an interactive multimedia storytelling game released in March 2009 that was available on Cyberchase Online[1]. PlaySpace is similar to the PBS Kids-themed Dot's Story Factory[2].
In February 2011[3], PlaySpace was relaunched "by popular demand". This added new features for educators with PBS Teachers accounts, such as writing custom prompts, or choosing from available prompts, and sharing the prompt to a class by URL. According to Rob Lippincott, PBS's Senior Vice President of Education, "Cyberchase PlaySpace is the first PBS Teachers resource that allows educators to customize an online activity specifically for their students".
Gameplay
The main menu of PlaySpace includes a "featured stories" option as well as the creation mode. Matt introduces the latter mode with a skippable demo that shows how to play. The player can press Matt's screen later for help.[4]
To make their own story, the player responds to Cyberchase-themed mathematical prompts by creating a three-page story on the "story screen", with colored drawings, text, photos, and premade stickers. Stories can be emailed, printed onto one page, or viewed by others.[2]
The relaunch added video prompts in addition to the text prompts, the ability to upload up to three[4] photos, and "dozens of" premade stickers featuring Cyberchase characters and objects[1].
Stickers
Good guys
Page 1
Page 2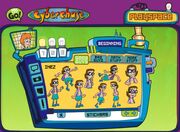 Page 3
Page 4
Page 5
Page 6
Page 7
Bad guys
Page 1
Page 2
Page 3
Buzz & Delete (3 stickers)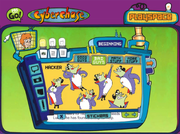 Page 4
Page 5
Page 6
Page 7
Math stuff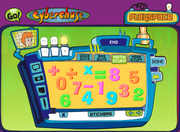 Page 1
Red addition sign
Orange zero
Orange division sign
Red seven
Cyan four
Cyan lowercase X or multiplication sign
Pink minus sign
Green equals sign
Pink one
Cyan nine
Pink eight
Red three
Orange five
Green two
Page 2
Red cube net
Red cube
Green tetrahedron net
Blue dodecahedron net
Blue dodecahedron
Page 3
Green straight ruler
Orange framing square
Stack of Snelfus
Measuring cup
5-Snelfu bill
10-Snelfu bill
Measuring tape
Purple 350 degrees
Page 4
Purple triangle tile
Clock face
Turquoise hexagon tile
Blue one hundred thousand
Blue one million
Blue one thousand
Blue ten thousand
Page 5
Thermometer
Pizza with quarter slice missing
Four connected blue squares
Price tag
Purple three quarters
Purple one third
Purple one quarter
More stuff
Page 1
Yellow lightbulb
Big

ultravivacious flower

Delete and Buzz in the

Li'l Wreaker

Blue lightbulb

Blender

Purple

erg

Green lightbulb
Green erg
Small ultravivacious flower
Purple lightbulb
Orange lightbulb
Page 2
Matt's backpack
Three-volt battery
Seven-volt battery
Box of six

ping pong balls

Ping pong balls
Plate of stacked donuts
Tube of wig gel
Tray of wig gel cubes
Water bucket
Easel
Page 3
Page 4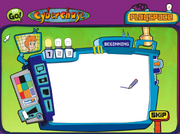 Gallery
References