Plot
"Digit's B-Day Surprise"
No image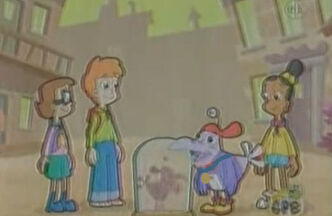 The kids have a really cool plan for Digit's b-day—a surprise party!  But in order to keep the secret, they pretend to forget his big day. Disappointed, Digit goes off on his own and runs into Hacker: If he can convince the dejected Digit that he is his one true friend, he can reprogram the cyboid to gain access to Motherboard! Meanwhile, the kids have a special gift made for their pal—a chocolate "Digit" sculpture. But to get it to the party, they must cross a desert where the heat threatens to melt the sweet treat. By observing how wearing a wet bandana keeps them cool, the kids figure out that evaporation is key to keeping the choco-sculpture from melting. But can they get it to the real Digit in one piece before Hacker cons him into changing sides?
Trivia
Starting with this episode, the character models has been redesigned.
The series switched to Flash beginning with this episode.
This is the first birthday episode in the series, the next is The Two Part Episod, Space Waste Odyssey.
External Links
Community content is available under
CC-BY-SA
unless otherwise noted.