"EcoHaven CSE"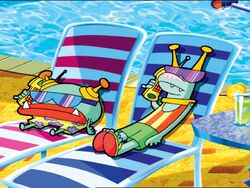 Original air date
May 3, 2004
Directed by
Larry Jacobs
Written by
Dave Dias
George Arthur Bloom
Kristin Laskas Martin
Topic
Body proportions
"EcoHaven CSE" is the first episode of Season 3 of Cyberchase. It originally aired on May 3, 2004.
Characters
Locations
Plot
Someone has stolen the legendary cyberbeast Chewcroca from cybersite EcoHaven, and the only clue is the culprit's footprint.  Using the principles of "body math," the CyberSquad has to sleuth out who took Chewcroca and rescue the massive beast.  The suspects are members of a safari team – one of them is secretly working for Hacker, who wants to capture the creature and use it to take over Cyberspace.  The CyberSquad must use forensic science to build their case and find both the culprit and the critter before Hacker gets his way.
Extras
Transcript
Gallery
Promotional art
Coloring pages
Screenshots
Trivia
Because Buzz and Delete are on vacation, they aren't featured throughout the episode nor do they have speaking roles. They are featured in a briefly in a scene where they are sunbathing, while Hacker talks to them on the phone.
Matt reveals the "stand-for" words for the abbreviation CSE: "Crime Scene Exploration."
When Inez sings Junior a lullaby, the language she sings is in Spanish. The lyrics translated are: "It is time to go to sleep, to rest in in your bed. It is time to go to sleep...." but cuts off by Matt.
Choocroca's name is a pun on Chewbacca, Han Solo's sidekick from Star Wars.
External links