This article or section is incomplete.
Please add information to improve its coverage and accuracy.
"EcoHaven Ooze"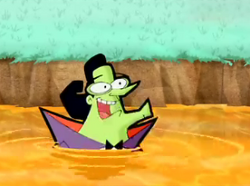 Original air date
November 29, 2006
Topic
Prototyping
"EcoHaven Ooze" is the fourth episode of Season 5 of Cyberchase. It originally aired on November 29, 2006.
Characters
Plot
When Hacker discovers that the liquid ooze that feeds the animals of EcoHaven also gives him a super energy boost, he decides to drain the pond and take the ooze home. He builds a fort around the pond, so the CyberSquad must figure out a way to get in without being noticed. They take inspiration from the Greek myth of the Trojan Horse and build a giant "Trojan Ducky." After testing a model of their invention to be sure it works, they hide inside the duck, and fool Delete into taking them to Hacker. But how will they stop Hacker's nefarious plot?
Extras
Transcript
Main article: EcoHaven Ooze/transcript
Gallery
Trivia
This episode is the latest appearance of Widget, Chewcrocca, Junior, and other animals from "Echohaven CSE".
This is the last episode to feature Echohaven in the series.
This is the only episode in which Widget and Baskerville appear together.
In this episode, the end credits were sped up yet the audio of the instrumental version the show's theme song was normal as always.
This episode aired as part of the "My Big Idea Marathon."
This episode was given out as a reward for a certain time[citation needed].
This is Len Carlson's last episode as the voice of Buzz, before his death.
Easter eggs
External links
Community content is available under
CC-BY-SA
unless otherwise noted.