This article or section is incomplete.
Please add information to improve its coverage and accuracy.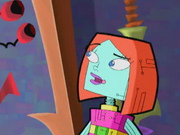 Erica Ram (voiced by Carla Collins) is from Castleblanca[citation needed]. She runs a TV show and fell in love with Hacker during the episode "The Halloween Howl". Erica gives interviews to people because she works for CyberScoop. She almost always smiles, and doesn't like carolers (as seen in the episode "Starlight Night"). She also appears on the online game The Quest.
History
In Quest 1: Mission Motherboard, Erica offers to ask the player character 3 Cyberspace trivia questions. Each correct answer earns 30 Snelfus, and answering all 3 correctly earns a bonus of 15 Snelfus.
Character bio
Very famous TV reporter for XUSB. Co-hosts 'CyberScoop' with Sam VanderRom. Loves to talk about who's who and what's what in Cyberspace.
Appearances
List of trivia questions in Quest 1: Mission Motherboard
Correct answers are in bold.
Can you tell me the name of one of the bad guys who fights Hacker for control of Cyberspace?
Skunky Skink from Skenechtadata
Penelope the Pickled Pirate
Warren the Wayward Genie
There's only one thing Hacker is totally scared of. What is it?
Ghosts
The number 13
Peanut butter sticking in his mouth
What do you call that goop Hacker uses on his hair?
Dippity don't
Wig gel
Hair moose
What's the name of Doctor Marbles' friend who writes poetry?
Lady Ada Lovelace
Perky Bitz Sheltie
William Worsmouth
What's the name of the Gollywood guy that Hacker makes feel bad?
What was the name of that guy Hacker hired when he fired Buzz and Delete?
Baskerville
Basketball
Basking T. Shark
When Hacker got a hold of The Totally Rad Ring of Radopolis, what did he wish for himself?
Long blond hair
Endless supply of popcorn
A little doggie named Fred
Where's the place to go in Cyberspace if you want palm trees and beach?
Sensible Flats
Radopolis
Solaria
Where's the place to go in Cyberspace if you want palm trees and beach?
Solaria
Castleblanca
Northern Frontier
Who are the star performers at the Water Park in R Fair City?
Beanie and Hotdog
Glowla and Spout
Sealia and Sam
Who is Cyberspace's most famous 'animal hero'?
Who is one of Cyberspace's most famous magicians?
Presto
Sleight O'Hand
Ava
Who plays piano at the Eerie Inn?
Three-headed Sal
Two-headed Sam
Seven-headed Sarah
Who runs the Cybrary?
Ms. Fileshare
Mr. Booker
Sir Readalot
Who's Hacker's favorite singer?
Elvis
Green Day
Barry Manilow
Who's in charge of the big pyramid in Ancient Egypt?
Who's the lucky cybergirl that Hacker almost married?
Wicked
Lucky
Ms. Fileshare
Who's the ruler of Shangri-La?
Mr. La Di Da
Master Pi
Patty Cakes
Who used to work for Hacker, back when he was a good guy?
Doctor Marbles
Digit
Matt, Jackie and Inez
Who won the Big Kahuna Huna Race-A-Runa in Tikiville last time?
Snippy the troll
Creech
Wicked
Community content is available under
CC-BY-SA
unless otherwise noted.