Father Poddle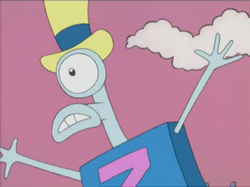 Gender
Male
The father Poddle[1] is a resident of Poddleville who appears in "The Poddleville Case".
History
Buzz and Delete steal the father Poddle's square 5 power pod. When the Mayor of Poddleville calls for the Poddles to find the thief, the father Poddle realizes this pod is missing and cries out in alarm.
Physical appearance
The father Poddle is a blue square 3 Poddle, wearing a tall yellow hat with a blue band.
References