Fluff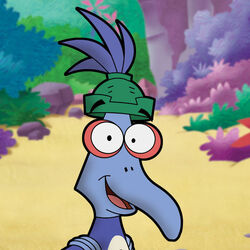 Species
Penguin
Gender
Male
Favorite color
Unknown, but possibly blue
Relatives
PJ (father)
Rusty (aunt)
Unnamed mother
Voice actor
Austin Dilulio
Fluff is a young penguin who lives on Penguia, plays penguin hockey for the Penguin Village Voyagers, and is on friendly terms with the CyberSquad.
Fluff first appears in "Penguin Tears". He also appears in Cyberolympics as a Team Motherboard player.
Personality
This article or section is incomplete: "Vague and awkwardly phrased"
Please add information to improve its coverage and accuracy.
Fluff is usually a hardthinking penguin, who usually is smart at math. He is very calm and usually does not cause any trouble.
He is interested in sports, such as penguin hockey.
Fluff often seems to be concerned with making his parents proud, and is nervous about messing up. In "Face-Off", he is skeptical of the Cyberblades unless he can verify their commercial's claims, unlike the rest of the team.
Physical appearance
Fluff is a blue penguin with hair-like feathers that point upwards through the top of his helmet. He has a pale blue head, light red rings around his circular eyes, and multiple narrow rings of the same pale blue color around his shoulders.
In "Penguin Tears", Fluff wears a jersey with the number 2. In "Face-Off", he wears a Voyagers jersey. Other episodes have depicted him not wearing clothing beyond his helmet.
Character bio
A kid penguin from Penguia. Wants to learn everything about sports. Back home he plays Penguin Hockey.
Appearances
Gallery
References
↑ Cyberchase Activity Book, pages 7, 12. Internet Archive. "From youngest to oldest: TW, Fluff, Inez, Creech, Matt, Slider". Inez is 9.