Fluff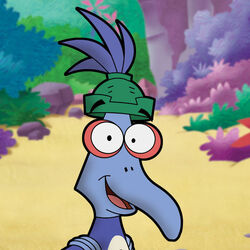 Species
Penguin
Age
14
Gender
Male
Favorite color
Unknown, but possibly blue
Occupation
hockey player, marcher
Relatives
PJ (father)
Rusty (aunt)
Unnamed mother
Voice actor
Austin Dilulio
Fluff is a smart, hardthinking penguin who lives with his dad, PJ, and his aunt, Rusty in Penguia. Fluff differs from other penguins in Penguia, he does not wear a scarf, nor any clothing, except in his first appearance, Penguin Tears, where he wore a jersey. Fluff is one of the Cybersquads' many friends. He plays penguin hockey, and marches in the Penguin March. He is also a proud member of the Voyagers.
Personality
Attitude
Fluff is usually a hardthinking penguin, who usually is smart at math. He is very calm and usually does not cause any trouble.
Appearance
Fluff is a blue color, and wears a hat with feathers on the top of his thin head. Like Digit, he has holes in his beak for a nose. In "Penguin Tears", he wore a jersey that said "2" on it.
Main Occupation
Fluff plays on the Penguin Village Voyagers hockey team.
Character bio
A kid penguin from Penguia. Wants to learn everything about sports. Back home he plays Penguin Hockey.
Appearances
Gallery
Community content is available under
CC-BY-SA
unless otherwise noted.