For the holiday, see

Giving Thanks Day (holiday)

.
"Giving Thanks Day"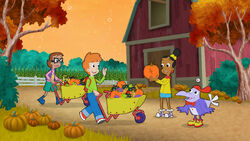 Original air date
November 22, 2019
Directed by
J. Meeka Stuart
Written by
Jill Cozza-Turner
Topic
Food waste
"Giving Thanks Day" is the third episode of Season 12. It originally aired on November 22, 2019. It was planned as the season's first episode in production, but aired after the double-length "Space Waste Odyssey" when that episode was rescheduled from November 29[1] to April 19.
Characters
Chef Foody

(non-speaking)

Farmer Stewart

Fluff (non-speaking)
Harmony (debut)
King Dudicus (non-speaking)

Little Red Riding Hood

(non-speaking)
Mary Contrary (non-speaking)

Three Little Pigs

(non-speaking)
Waldo (non-speaking)

Zoreen

(non-speaking)
Locations
Plot
While shopping at Cornucopia Farm for their Giving Thanks Day feast, the CyberSquad forgets the pumpkins for Jackie's pumpkin pie recipe. By the time they return, Hacker has sold it out of the pristine produce, in preparation for having his niece Harmony over. The CyberSquad tries to bargain with Hacker for a pumpkin, noticing that he has much more food than he needs, but he refuses.
Back at Cornucopia Farm, the CyberSquad learns that even if the remaining food has imperfections on the outside, it tastes the same and is just as healthy once prepared. Farmer Stewart confirms this and shows the mountains of unwanted food that she gets every year, making the CyberSquad feel guilty. They decide to hold a Giving Thanks Day dinner on Cornucopia to prepare and eat the unsold food, preventing most of it from going to waste. Inez uses a parade broadcast where Dustin Cheezer is performing to invite everyone in Cyberspace to the celebration. They prepare the food and manage to use 90% of it.
Harmony points out that there aren't enough people at the Grim Wreaker's hangar to eat all of the food Hacker prepared, calling his bluff that he has friends to spend the holiday with. Buzz, Delete, and Harmony pressure Hacker into bringing the food to Cornucopia and joining the CyberSquad at their feast. Matt thanks the guests for their help, and Farmer Stewart decides to make the celebration on Cornucopia a Giving Thanks Day tradition.
Gallery
Trivia
The Cornucopia is an item that originated in Greek Mythology[2].

It symbolizes wealth and abundance and is used in the modern day as a Thanksgiving decoration.
Cornucopia is derived from cornu copiae, which is a Latin phrase meaning: "horn of plenty"[3]
The Cybersite, Cornucopia could be a reference to part of the massive arena in the Hunger Games franchise.
In this episode Hacker has a niece name Harmony.
References