This article or section needs a new image.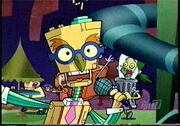 Grubby is a character who lives in R-Fair City. He's very funny but does not seem to like to bathe and wears a garbage can for clothing. He runs a game stand at R-Fair City called "Grubby's Whacky Worms". It's a game with four different chances of winning; you pick a worm, you win a hat, but you have to close your eyes while pulling out a worm from the sack. Each worm has four different colors: brown, orange, chartreuse, and puce. Grubby also appears in the episode "A Fraction of a Chance" to tell Digit and Wicked the final clue to locating the UVO.
In Cyberchase: Carnival Chaos, Grubby is voiced by Andre Wells.
Character bio
A funny guy from R-Fair City. Doesn't like to bathe. Wears a garbage can as clothing. In charge of the Lost and Found stand.
Appearances