Hacker's wig gel is refers to the product that the show's main antagonist, Hacker, uses to maintain his wig on his head. 
It makes occasional appearances in the television series in various forms. In "Find Those Gleamers! ", Hacker advertises his wig gel during the Cybersquad's mission broadcast. The wig gel was shown as a yellow liquid.  
In "Harriet Hippo and the Mean Green ", it was an ingredient in the cure of the Mean Green affliction. The gel was shown as yellow cubes stored in a tray in Hacker's freezer.  
The object also appears in the Quest 1: Mission Motherboard game on the official Cyberchase website as an ingredient to upgrade Motherboard's operating system against Hacker's plans. The official name for Hacker's wig gel in the game is "Cube of Wig Gel". The wig gel is also shown as a yellow cube. The player can find this object in the Cybermall and secret places throughout cybersites. 
Game Description
Cube of Wig Gel
The original Hacker Wig gel. Keeps wings stuck to heads and is an excellent all-around cyberglue. Very strong.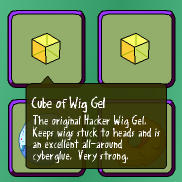 Episode Appearances
Game Appearance
Community content is available under
CC-BY-SA
unless otherwise noted.