"Hacker Hugs a Tree"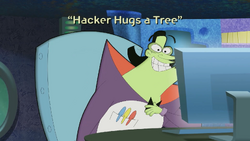 Original air date
April 17, 2020
Directed by
J. Meeka Stuart
Written by
Adam Rudman
Topic
Deforestation
"Hacker Hugs a Tree" is the eighth episode of Season 12 of Cyberchase.
Characters
Locations
Plot
Who knew Hacker was a nature lover? Seems it all started many Cyber-years ago, when Motherboard banished him to the Northern Frontier. With only the trees to call his friends, Hacker developed a soft spot for the woodlands. That's why he's especially incensed when a new villain, The Zusk, begins to zap his beloved trees into thin air. The tree-sanity must be stopped! In an unlikely pairing, the CyberSquad steps in to help Hacker. But, will they be able save the forest before it's too late?
Trivia
Gallery
References
Community content is available under
CC-BY-SA
unless otherwise noted.