(19 intermediate revisions by 6 users not shown)
Line 1:
Line 1:
 
+

{{Episode

−

== Plot ==

 
 
+

|season=11

−

{{Episode|season = 11|number = 6|previous = "[[A Reboot Eve to Remember]]"|next = "[[Invasion of the Funky Flower]]"|airdate = April 16, 2018|writer = Adam Rudman

 
 
+

|number=6

−

George Arthur Bloom|director = Jason Groh}}

 
 
+

|image=CYBR1106 HousewarmingParty.png

 
+

|airdate=April 16, 2018

 
+

|director=[[J. Meeka Stuart]]

 
+

|writer=[[Jennifer Hamburg]]

 
+

|previous="[[A Reboot Eve to Remember]]"

 
+

|next="[[Invasion of the Funky Flower]]"

 
+

}}

 
+

"'''Housewarming Party'''" is the sixth episode of [[Season 11]] of ''[[Cyberchase]]''. It originally aired on April 16, 2018.

 
 
−

==Trivia==

+

====

 
+

{{Incomplete}}

−

*This is the first time Inez makes a wish at the birthday party.

 
 
+
 
+

==Characters==

 
+

*[[Matt]]

 
+

*[[Jackie]]

 
+

*[[Inez]]

 
+

*[[Digit]]

 
+

*[[Hacker]]

 
+

*[[Wicked Witch]]

 
+
 
+

==Gallery==

 
+

<gallery widths="185">

 
+

Housewarming Party Title Card.png|"Housewarming Party" Title Card

 
+

AE0AF6C4-986F-4605-8074-50E28233AEBD.png|Mischievous [[Hacker]]

 
+

D66EE2BB-5AA6-4E1E-A035-FA7E2B3B9C36.png

 
+

103A95B1-A762-4F34-9FD1-0B4C4B540C6E.png

 
+

FF408858-9CAD-4DF4-8A9B-23D7B1C2B49C.png

 
+

51CAD6B5-3A1C-4F62-9E24-2DA7D564FE9E.png

 
+

</gallery>

 
+

{{Stub}}
---
Latest revision as of 01:33, 10 May 2021
"Housewarming Party"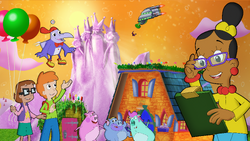 Original air date
April 16, 2018
Directed by
J. Meeka Stuart
Written by
Jennifer Hamburg
Topic
Unknown
"Housewarming Party" is the sixth episode of Season 11 of Cyberchase. It originally aired on April 16, 2018.
Plot
This article or section is incomplete.
Please add information to improve its coverage and accuracy.
Characters
Gallery
This article is a stub.
Please help expand it.