Max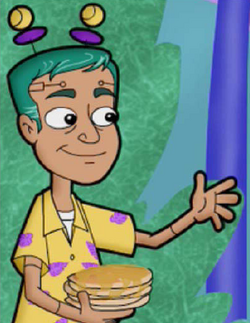 Gender
Male
Max is Creech's father, featured in "Father's Day". Creech claims he makes the best banana pancakes around. He is voiced by Matthew Broderick[1].
History
Max and Hacker were classmates. To Hacker's jealousy, Max outperformed him in track, debate, slugball, and the school dance contest.[2]
In "Father's Day", Max has been named Cyberdad of the Year in Tikiville. Hacker seeks revenge using a malevolent robot clone of Max, to replace him at the Father's Day parade and ruin Max's reputation in front of the attendees. The real Max is tied up within the Grand Tiki Statue. The CyberSquad rescues him, and they intercept Hacker's plans at the Fantastic Fathers Photo-Rama. Max wrests a hose from his impostor and slimes Hacker instead of the crowd.
Physical appearance
This article or section is incomplete.
Please add information to improve its coverage and accuracy.
Relationships
Creech
Max is considered a great father and has a strong relationship with Creech. She nominated him for Father of the Year.
Appearances
Gallery
References
Community content is available under
CC-BY-SA
unless otherwise noted.