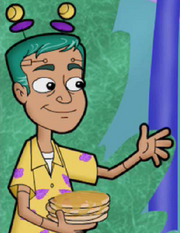 Max is Creech's father, featured in "Father's Day". He is voiced by Matthew Broderick.
He was named "Cyber Dad of the Year" in Tikiville. Apparently, Max and Hacker were classmates and in everything they did, whether it was debate, track, or dancing, Max always bested him. Because of Max's continual success, Hacker grew jealous of him. To get his revenge, Hacker builds a robot clone of Max, so that it could replace him at the Father's Day parade. The robot clone would then begin to humiliate and make him look bad in front of the parade attendees. Max is a great father, has a strong relationship with Creech, and makes the best banana pancakes around, which is why she nominated him for Father of the Year.
This article is a stub.
Please help expand it.
Community content is available under
CC-BY-SA
unless otherwise noted.