"Of All the Luck"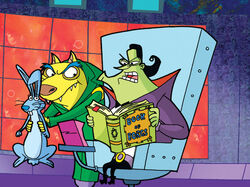 Original air date
February 5, 2002
Directed by
Larry Jacobs
Written by
Adam Rudman
George Arthur Bloom
Topic
Venn diagrams
"Of All the Luck" is the twelfth episode of the first season of Cyberchase. It originally aired on February 5, 2002.
Characters
Main Characters
Locations
Plot
Convinced that his failure to defeat Motherboard is simply a result of bad luck, Hacker collects the Ten Lucky Charms of Cyberspace. The caper works. Hacker's luck changes, and good things begin happening to him. When Motherboard realizes what Hacker has done, she sends the kids and Digit to Hacker's hideout in the Northern Frontier to help the Lucky Charms escape. The kids use logic, Venn Diagrams and an understanding of the words "and," "or," and "not" to free the Charms.
Extras
Transcript
Gallery
External links
Community content is available under
CC-BY-SA
unless otherwise noted.