Olli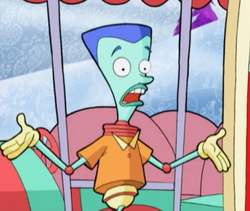 Species
Solarian
Gender
Male
Olli Nollie[1] (also known as "Tosir Onkled"[citation needed]) is the tour guide of Solaria[2], and acts as the announcer for the skate-off in Radopolis in "Totally Rad". He debuts in "Snow Day to Be Exact".
Physical appearance
He is a Solarian with cyan skin and blue hair and he wears an orange shirt and he has yellow hands and he is legless.[2]
In "Totally Rad", his appearance is updated, but his voice is still the same.
Personality
Olli is fairly energetic and emotional. When he is happy, he is very cheerful and prone to laughter. He loves saying "bon appétit" but pronounces it as "bon appetite".
Olli says he's "not good under pressure"[2]. When Solaria snows over in "Snow Day to be Exact", he fears the impending doom and feels helpless to prevent it. He seems to undergo several mood swings, especially when the situation starts to look more or less hopeful.
In "Totally Rad", Olli seems much less nervous, despite high stakes for the CyberSquad. He is still very excited when they win.
Appearances
Gallery
References