"Past Perfect Prediction"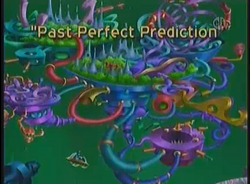 Original air date
July 27, 2005
Directed by
Larry Jacobs
Written by
Dave Dias
George Arthur Bloom
Kristin Laskas Martin
Topic
Forecasting
"Past Perfect Prediction" is the fourth episode of Season 4 of Cyberchase. It originally aired on July 27, 2005.
Plot
Convinced that the last piece he needs to activate his powerful new machine is hidden in Slider's garage, Hacker threatens to evict the teen unless he pays up on an old debt. Enter the kids and Digit. As a way to raise the money, they convince Slider to open the garage for business – just like his dad did. They do, but quickly discover that there's more to it than meets the eye. Can they unlock the past to find the key to saving Slider's future?
Characters
Main Characters
Recurring/Minor Characters
Locations
Extras
Transcript
Main article:

Past Perfect Prediction/transcript
Gallery
Trivia
Hacker's signature on the contract is the same design as on his Trading Card, including the double underline. Coop's signature is cursive, consistent with the writing in his

diary

.
External links