"Penguin Tears"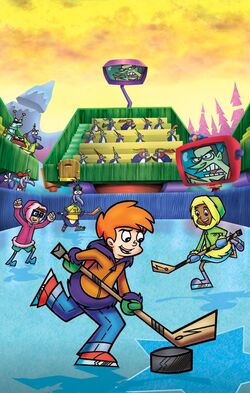 Original air date
July 26, 2005
Directed by
Larry Jacobs
Written by
Adam Rudman
George Arthur Bloom
Kristin Laskas Martin
Topic
Angle congruence
"Penguin Tears" is the third episode of Season 4 of Cyberchase. It originally aired on July 26, 2005.
Characters
Locations
Plot
Hacker's secret quest continues, with the nefarious 'borg on the hunt for the next piece of his mysterious machine. His search for the legendary Prism of Penguia takes him to snowy Cyberia. While trying to stop Hacker, Digit and the kids are trapped in an icy cave and must master the principles of bouncing in order to break out. Can they escape in time or will Hacker's plan succeed?
Trivia
Dr. Bill is a parody of Dr Phil.
This marks the first appearances of Fluff, Ice, The coach and most of the speaking penguins. And the first time Penguia is seen with snow and speaking penguins and signs of civilization (buildings, trees, nature, etc.). This also marks the only appearance of Fluff in Nelvana.
This marks the first appearance of The Pedestal of Penguia.
Hacker's snow outfit is reused from "A Time To Cook".
Errors
When Fluff was laying down in the snow, his ice skates appeared on his feet. When he got up, his skates disappeared, showing his regular feet.
Extras
Transcript
Gallery
External links