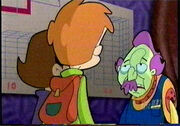 Pops is the proprietor of Pops Props in R-Fair City. He appears in "A Whale of a Tale". He helps Inez and Matt get a cage to contain the rampaging Spout. Prior to the events of the episode, he sold Glowla a costume.
Appearances
This article is a stub.
Please help expand it.