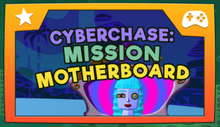 The Quest 1: Mission Motherboard, more recently branded as Cyberchase: Mission Motherboard, is the first Quest on Cyberchase Online. It was removed in the 2019 redesign, but was updated and added again on May 7, 2020[1].
Plot
Hacker has miniaturized the bugs that he used against the Cybrary in "Raising the Bar", so that they can shut down Motherboard's circuits. The player must upgrade Motherboard's operating system by collecting and sending her a Memory Integrator, five Cubes of Wig Gel, a Kappatron, a Chocoberry Chiller, and two Cans of Cryoxide.
Gameplay
Cyberchase: The Quest is an isometric point-and-click game. The player can move their character within and between screens, talk to non-playable characters, buy from and trade with shopkeepers for items, and interact with and collect certain objects.
The main gameplay loop of Mission Motherboard is to solve games to get Snelfus, and then buy and trade items to get parts for Motherboard.
The Skwak Pad serves as the game's menu. It tracks the player's Snelfu balance and transaction history, Quest items, and inventory. In the original version of the game, the player could also contact the CyberSquad for a hint, read recent CyberNews, and use the Skwakopedia.
Characters
Playable characters
Mission Motherboard has eight playable character choices, each with five "Skin" options, four "Outfit" options (except for the Poddles, which each have nine), and four "Other" options. This allows for 840 distinct character appearances.
Character
Customization options
Skin
Outfit
Other
Gigabyte

Teal
Lime
Red
Goldenrod
Cyan

Purple necklace, orange bracelet and belt, indigo string
Fuchsia
Green
Gray

Horns
Antlers
Single horn
Curled horns

Poddle (triangle)

Blue skin, mint body, green legs
Blue-gray skin, yellow body, red legs
Teal skin, purple body, purple legs
Fuchsia skin, lime body, lime legs
Orange skin, red body, crimson legs

Number 1
Number 2
Number 3
Number 4
Number 5
Number 6
Number 7
Number 8
Number 9

Double bun
Single bun
Cowboy hat
Backwards baseball cap

Radster Skate

(formerly named Radster[2])

Mint
Blue
Lime
Yellow
Fuchsia

Yellow earrings, orange choker and clothes
Orange earrings, yellow choker, pink clothes
Purple
Green

Blue helmet with red spiral, green skateboard
Orange helmet with yellow stripes, pink and green skateboard
Green helmet with orange lightning bolt, blue and orange skateboard
Orange helmet with yellow spots, yellow and orange skateboard

Pompadorian

(feminine)

Purple skin, blue lipstick
Beige skin, fuchsia lipstick
Cyan
Yellow skin, orange lipstick
Green skin, red lipstick

Salmon
Salmon shirt, yellow collar and skirt
Purple
Green

Goldenrod
Purple
Blue
Mint

Vampira (formerly named Vamp[3])

Purple
Blue-gray
Orange
Green
Red

Blue-white dress, cyan cape
Purple dress, crimson cape
Turquoise dress, teal cape
Yellow dress, pink cape

Beanie, blue lipstick and choker
Hair streak, fuchsia lipstick and choker
Cyan and fuchsia flower, cyan lipstick and choker
Green and red flower, pink lipstick and choker

Poddle (square)

Blue-gray skin, mint body, red legs
Orange skin, crimson body, red legs
Green skin, turqoise body, green legs
Fuchsia skin, purple body, purple legs
Cream skin, blue body, blue legs

Number 1
Number 2
Number 3
Number 4
Number 5
Number 6
Number 7
Number 8
Number 9

Hair tuft
Messy hair
Short curly hair
Mohawk

Radster Blade

(formerly named Radster[4])

Green
Turquoise
Goldenrod
Red
Blue

Blue
Orange shades, purple shirt, thistle pants
Green
Orange

Fuchsia and purple cap with three drooping antennae
Teal and purple cap with zigzag antenna
Blue cap with curly antenna
Yellow cap with three straight antennae

Pompadorian

(masculine)

Purple
Cyan
Lavender
Salmon
Artichoke

Blue
Yellow
Purple
Crimson
Non-playable characters
*Formerly planned to be playable in an early design concept[6].
Locations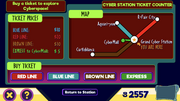 The player must buy CyberBus tickets to travel between the following Cyber Stations.
Cyber Station ticket prices[3] and landmarks
Cyber Station
Ticket price (Snelfus)
Landmarks

Grand Cyber Station

0
CyberMall (express)
5

Binky's Better Buy

Wicked's home & Castle Collection

Mr. Z's Gollywood Emporium

Creech's Surf Shop

Aquari-Yum (blue line)
10
R-Fair City (red line)
20

Donut Museum Gift Shop

Lost & Found

Castleblanca (brown line)
30

Eerie Inn

Haunted Hangout

Radopolis (orange line)
10
The following locations are also mentioned in the game.
Minigames
Development
Paper design concept
Development of the game, and Cyberchase: The Quest as a whole, started in 2004 or earlier. By June 2004, the game designers had made an on-paper design concept with several illustrations, which a sample of Long Island third graders playtested. While it was mostly described as a Cyberchase online financial literacy game, and once as a Cyberquest, WNET had proposed six titles: Operation: Hack Attack, Operation: Cybersquad, Mission: Cyberchase, Destination: Cyberspace, Cybersquad Quest, and Mission Motherboard. The final name was most popular among the sample.[6]
The preliminary plot description was as follows. It is similar to the final game, but the CyberMall was to be named the Cyber Bazaar at this point in development.
"Hacker is working on a new super powerful virus – powerful enough to get into Motherboard's circuits! Your mission is to upgrade Motherboard's operating system so that her hardware will be strong enough to defeat Hacker's new virus. To upgrade Motherboard's operating system, you need to find these parts. To find these parts you'll have to travel all around Cyberspace. Some parts you can earn by solving games or puzzles, others you'll need to buy or trade from the stores in the
Cyber Bazaar
. Sneflus [
sic
] are what we call money in Cyberspace. Motherboard has given you 100 sneflus to get you started. One way of getting more sneflus is to get a job at a Cybersite."
In the design concept, players were to control Inez, Jackie, or Matt; after playing the game, most of the sampled students expressed a preference to build their own character.
The concept started at the home base with the aforementioned description of the mission. The home base also included a bookcase to learn about cybersites and other topics, which possibly became the Skwakopedia; a trophy case, which would display trophies representing completed quests; and a piggy bank to store money more securely than on the Skwak Pad.
Players were introduced to the Skwak Pad menu, and directed to read the Cyberspace News feature. This provided guidance on how to get Kepler Rings, which Motherboard needed five of in this early version.
"Headline: Motherboard says Hacker May Be Planning New 'Super' Virus
Ad: Visit Krazy Kopernik's House of Hardware—His prices are insane! This week only: Kepler Rings – only 100 sneflus [sic] each! Come to the Cyber Bazaar and check out our huge selection.
Classifieds: Help wanted: Logic Zoo in Cybersite
Zootropia
is looking for help sorting our animals after a Hack Attack. 600 sneflus are yours if you can get the job done!"
The game then progressed to Grand Cyber Station, which had a ticket window, train area, Lost & Found department, and several features not found in the final game. There was a bookstore to provide information on cybersites and other topics; this may have been part of a system where the player could buy books for the bookcase at their home base. There was also a candy store: candy would have been used to bribe creatures in certain minigames. Finally, there was an alternative mode of transport, a taxi stand. It would sometimes have been cheaper to take a taxi to certain cybersites than to take the train.
A ticket for the blue line to Zootropia cost 20 Snelfus, opening access to the Logic Zoo, Old Age Zoo, pasture, and donut zoo. After playing the Logic Zoo minigame, which rewarded the player with 600 Snelfus, players who did not know where to go next were reminded of the Cyberspace News readout.
"Hello! You're here just in time. Hacker has let out all of the animals and we need to get them back into their proper areas. If you can do that, I'll pay you 600 sneflus [sic]. Are you interested?"
―Character at the Logic Zoo entrance
"Each area of the zoo is separated into four pens and animals with things in common share the same pen. Animals in the middle pen have things in common with both the right and the left pens. So this pen has animals that walk, this pen has animals with short ears, and the middle has animals that walk and have short ears. The outside has animals that don't walk, and don't have short ears. In the game, you would roll your mouse over the animal and a pop-up would tell you about the animal's characteristics, then you could drag the animal into its pen."
―Logic Zoo help instructions
A ticket for the green line is implied to cost 30 Snelfus[note 1]. It opened access to the Cyber Bazaar, containing Krazy Kopernik's House of Hardware, Harddrives R Us, Jim's Junk Shop, and Pies O'Plenty. The blueberry pie was one of the items Motherboard needed in this version, whereas it is a normal item in the final game, with the Chocoberry Chiller possibly supplanting it.
"Ah yes, Kepler Rings. I've got plenty of these. And don't you know it—they're on sale. Cost you 100 sneflus [sic] each. I'd also trade you 5 for the Eye of Rom if you've got it."
―Salesperson robot at Krazy Kopernik's House of Hardware
---
↑

The player would start with 100 Snelfus. This, minus 20 spent on the blue line ticket, plus 600 earned from the Logic Zoo, minus 100 spent on each of five Kepler Rings (−500 total), leaves an expected 180 Snelfus remaining in this game state. The report claims that the player has 150 Snelfus at this point, leaving a 30-Snelfu expenditure unaccounted for. This is likely the unstated price of the green line ticket.
---
The feedback to the paper design concept can be directly associated with several differences between this early design concept and the final game, down to the Mission Motherboard subtitle. It was decided to implement character creation and home base decoration, replacing the alternative plan to use the established Earth children as the playable characters. The focus on decoration may have displaced other features planned for the home base.
Most of the sampled students expected and wanted the game to feel long, and guessed that the full game would take 30 minutes to two hours to complete. This likely confirmed the need to implement the planned file-saving feature, so that players could complete the game across multiple sessions and days.
The students had difficulties reading some of the complicated and invented words and names. Although most thought these names were fun, one student felt neutral on this matter, and difficulties sounding them out bothered another student. According to the report, troublesome words included "Kopernik, Kepler, sneflus [sic], Bazaar, selection, classifieds, logic, [and] Zootropia." These reading stumbles may be responsible for the replacement of Zootropia, Kepler Rings, and Krazy Kopernik's House of Hardware; and for the renaming of the Cyber Bazaar to the CyberMall. If so, it may have been decided to keep Snelfus due to their establishment in several Cyberchase episodes by mid-2004, despite their frequent misspelling in even the evaluation report itself.
Many of the students were okay with the minigames also appearing as separate games on Cyberchase Online.
To account for the playtesting being carried out in New York, the report suggested replacing the trains and taxis with buses, for greater familiarity to players in less urban areas. The final game indeed replaced them with the CyberBus. Relatedly, it suggested prompting players to use the ticket window upon trying to enter the train area without a ticket.
Late 2004 version
A version of the game, simply referred to as Cyberchase The Quest, was described in a December 2004 evaluation report. This mostly documented player enjoyment, and proposed changes to aspects of the game that confused playtesters.[7]
Lucky did not yet function in this version of the game, and several bugs were reported.
Changes proposed in the report included a replay feature for Motherboard's message; clearer signage and navigation for entrances to certain rooms; changing the ad space in the Grand Cyber Station throughout the game to direct players to objectives; a separate CyberBus line for the CyberMall; a hint about earning money when the Snelfu count is very low; message and button design changes to the Skwak Pad; more consistent terminology for items in certain messages; and consideration of a return policy feature for the next quest. Some of these changes were implemented by the final version.
References