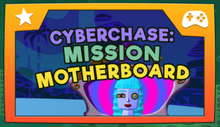 The Quest 1: Mission Motherboard, more recently branded as Cyberchase: Mission Motherboard, is the first Quest on Cyberchase Online. It was removed in the 2019 redesign, but was updated and added again on May 7, 2020[1].
Plot
Hacker has miniaturized the bugs that he used against the Cybrary in "Raising the Bar", so that they can shut down Motherboard's circuits. The player must upgrade Motherboard's operating system by collecting and sending her a Memory Integrator, five Cubes of Wig Gel, a Kappatron, a Chocoberry Chiller, and two Cans of Cryoxide.
Gameplay
Cyberchase: The Quest is an isometric point-and-click game. The player can move their character within and between screens, talk to non-playable characters, buy from and trade with shopkeepers for items, and interact with and collect certain objects.
The Skwak Pad serves as the game's menu. It tracks the player's Snelfu balance and transaction history, Quest items, and inventory. In the original version of the game, the player could also contact the CyberSquad for a hint, read recent CyberNews, and use the Skwakopedia.
Characters
Playable characters
Mission Motherboard has eight playable character choices, each with five "Skin" options, four "Outfit" options (except for the Poddles, which each have nine), and four "Other" options. This allows for 840 distinct character appearances.
Character
Customization options
Skin
Outfit
Other
Gigabyte

Teal
Lime
Red
Goldenrod
Cyan

Purple necklace, orange bracelet and belt, indigo string
Fuchsia
Green
Gray

Horns
Antlers
Single horn
Curled horns

Poddle (triangle)

Blue skin, mint body, green legs
Blue-gray skin, yellow body, red legs
Teal skin, purple body, purple legs
Fuchsia skin, lime body, lime legs
Orange skin, red body, crimson legs

Number 1
Number 2
Number 3
Number 4
Number 5
Number 6
Number 7
Number 8
Number 9

Double bun
Single bun
Cowboy hat
Backwards baseball cap

Radster Skate (formerly named Radster[2])

Mint
Blue
Lime
Yellow
Fuchsia

Yellow earrings, orange choker and clothes
Orange earrings, yellow choker, pink clothes
Purple
Green

Blue helmet with red spiral, green skateboard
Orange helmet with yellow stripes, pink and green skateboard
Green helmet with orange lightning bolt, blue and orange skateboard
Orange helmet with yellow spots, yellow and orange skateboard

Pompadorian (feminine)

Purple skin, blue lipstick
Beige skin, fuchsia lipstick
Cyan
Yellow skin, orange lipstick
Green skin, red lipstick

Salmon
Salmon shirt, yellow collar and skirt
Purple
Green

Goldenrod
Purple
Blue
Mint

Vampira (formerly named Vamp[3])

Purple
Blue-gray
Orange
Green
Red

Blue-white dress, cyan cape
Purple dress, crimson cape
Turquoise dress, teal cape
Yellow dress, pink cape

Beanie, blue lipstick and choker
Hair streak, fuchsia lipstick and choker
Cyan and fuchsia flower, cyan lipstick and choker
Green and red flower, pink lipstick and choker

Poddle (square)

Blue-gray skin, mint body, red legs
Orange skin, crimson body, red legs
Green skin, turqoise body, green legs
Fuchsia skin, purple body, purple legs
Cream skin, blue body, blue legs

Number 1
Number 2
Number 3
Number 4
Number 5
Number 6
Number 7
Number 8
Number 9

Hair tuft
Messy hair
Short curly hair
Mohawk

Radster Blade (formerly named Radster[4])

Green
Turquoise
Goldenrod
Red
Blue

Blue
Orange shades, purple shirt, thistle pants
Green
Orange

Fuchsia and purple cap with three drooping antennae
Teal and purple cap with zigzag antenna
Blue cap with curly antenna
Yellow cap with three straight antennae

Pompadorian (masculine)

Purple
Cyan
Lavender
Salmon
Artichoke

Blue
Yellow
Purple
Crimson
Non-playable characters
Locations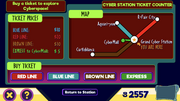 The player must buy CyberBus tickets to travel between the following Cyber Stations.
The following locations are also mentioned in the game.
Minigames
References
Community content is available under
CC-BY-SA
unless otherwise noted.