"R-Fair City"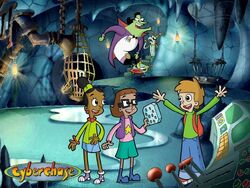 Original air date
January 23, 2002
Directed by
Larry Jacobs
Written by
Barry Harman
George Arthur Bloom
Topic
Probability
"R-Fair City" is the third episode of Season 1 of Cyberchase. It originally aired on January 23, 2002.
Characters
Locations
Plot
Hacker lures Digit to a fantastic cyber amusement park and holds him captive. When the kids arrive, they analyze the games of chance, figuring out which games are fair and which ones are not, and use what they learn to find Hacker and beat him at his own game before it's too late.
Extras
Errors
At the end of Act 1, The credits appear at the wrong time
The extra credits were edited out of the archived version.
The error is not present the full episode.
Transcript
Memorable quotes
Gallery
External links