Line 2:
Line 2:
 

{{Episode|season = 1|number = 3|previous = "[[Castleblanca (episode)|Castleblanca]]"|next = "[[Snow Day to Be Exact]]"|airdate = January 23, 2002|writer = Barry Harman

 

{{Episode|season = 1|number = 3|previous = "[[Castleblanca (episode)|Castleblanca]]"|next = "[[Snow Day to Be Exact]]"|airdate = January 23, 2002|writer = Barry Harman

 

George Arthur Bloom|director = Larry Jacobs}}Hacker lures Digit to a fantastic cyber amusement park and holds him captive. When the kids arrive, they analyze the games of chance, figuring out which games are fair and which ones are not, and use what they learn to find Hacker and beat him at his own game before it's too late.

 

George Arthur Bloom|director = Larry Jacobs}}Hacker lures Digit to a fantastic cyber amusement park and holds him captive. When the kids arrive, they analyze the games of chance, figuring out which games are fair and which ones are not, and use what they learn to find Hacker and beat him at his own game before it's too late.

 
+
 
+

== Trivia ==

 
+

* Delete references Scooby-Doo by referring to the Cybersquad as "meddling kids."

 
 
 

== Gallery ==

 

== Gallery ==
---
Revision as of 02:21, 10 June 2018
Plot
"R-Fair City"
No image
Original air date
January 23, 2002
Directed by
Larry Jacobs
Written by
Barry Harman George Arthur Bloom
Topic
Unknown
Hacker lures Digit to a fantastic cyber amusement park and holds him captive. When the kids arrive, they analyze the games of chance, figuring out which games are fair and which ones are not, and use what they learn to find Hacker and beat him at his own game before it's too late.
Trivia
Delete references Scooby-Doo by referring to the Cybersquad as "meddling kids."
Gallery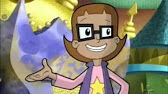 External Links
Community content is available under
CC-BY-SA
unless otherwise noted.