Radopolis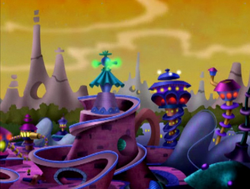 Important objects
Totally Rad Ring of Radopolis
Radopolis is a cybersite that is a giant skating park for skateboarders, roller-bladers, and bikers. Its demonym is Radster[2] or, rarely, Radopolite[3]. According to Slider's estimation in "Bottled Up", there are about two thousand Radsters.
The site is ruled over by King Dudicus, and is the birthplace[citation needed] of Slider. It also appears in The Quest.
Inhabitants
Locations
This article or section is incomplete.
Please add information to improve its coverage and accuracy.
Skate park

Point Dune

[5]

Sinking Circle Valley

[5]

Way Cool Arena
Holidays
Location bio
The coolest cybersite in Cyberspace. Everyone who lives there totally loves skateboarding, inline skating, biking and more - any kind of sports on wheels! The Way Cool Arena is here.
Appearances
References