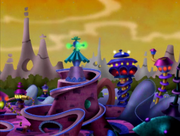 Radopolis is a cybersite that is a giant skating park for skateboarders, roller-bladers, and bikers. Its demonym is "Radster".
The site is ruled over by King Dudicus, and is the birthplace of Slider. It also appears in The Quest.
Inhabitants
Chubasco
Khamsin
Mistral
Sirocco
Cyclone
Monsoon[citation needed]
Locations
This article is incomplete. Please add information to help it reach this wiki's standards.
Skate park
Way Cool Arena
Appearances
Community content is available under
CC-BY-SA
unless otherwise noted.