Razz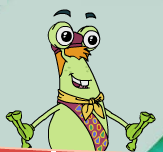 Gender
Male
Razzell[citation needed] is a young Inventor Scout who lives in Perfectamundo. He first appeared in "The X-Factor". He is a very smart kid in school[citation needed].
History
This article or section is incomplete.
Please add information to improve its coverage and accuracy.
In "The X-Factor", Razz distributes his invention, DigiFizz. When it is found to be the cause of pollution of Perfectamundo's dome, Razz asked the mayor of Perfectamundo if he could fix the problem, rather than discontinue DigiFizz entirely. The mayor said yes, as long as he could do it under an hour. Razz inserted filters into the canisters to block the propellants, and cleaned the dome with the help of the other kids in Perfectamundo.
Appearances
Episodes
Games
Community content is available under
CC-BY-SA
unless otherwise noted.