"Return to Sensible Flats"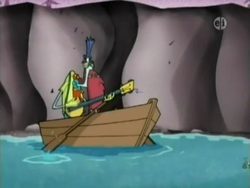 Original air date
February 12, 2002
Directed by
Larry Jacobs
Written by
Nina Shelton (Story)
George Arthur Bloom
Topic
Line graphs
"Return to Sensible Flats" is the seventeenth episode of Season 1 of Cyberchase. It originally aired on February 12, 2002.
Characters
Main Characters
Rudy

(debut)
Deke (debut)
Locations
Plot
Something is amiss with the bliss of Sensible Flats.  The reservoir is dry, the town is out of water, and the folks who live there are leaving as fast as they can. But why? When the kids and Digit arrive, they use line graphs to reveal the true story of what happened  — and all lines lead to Hacker, the newest resident of Sensible Flats.
Extras
Math topic: "Return to Sensible Flats" focuses on line graphs and how you can use them to keep track of changes and make predictions. They use one to show the water decrease in Sensible Flats.
For Real Segment: "An Endless Cycle" - Harry decides to ride his unicycle to visit with his grandmother, and uses a line graph to predict that he can make the 20-mile trip before dark.
Transcript
Main article:

Return to Sensible Flats (transcript)
Gallery
External links