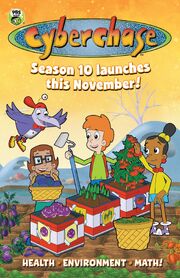 Season 10
November 9, 2015
November 13, 2015
Season 10 is the season of Cyberchase that premiered on November 9, 2015 with "Fit To Be Heroes", and ended on November 13, 2015 with "Bottled Up". It is five episodes long, with new episodes daily.
The Cyberchase: Step It Up community program was developed as an extension of the season's health theme.[1]
Episodes
Characters
Characters Introduced
Bob

Councilman

Councilwoman

Granny

Mrs. Giff

Oona
Trivia
This marks the first season in which Ollie does not appear since his introduction in The Cyberchase Movie.
References
short_text
This article is a
stub
.
Please help expand it.