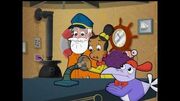 Season 9 is the season of Cyberchase that premiered on November 4, 2013 with "An Urchin Matter", and ended on April 15, 2014 with the two-part episode "The Cyberchase Movie". It is 5 episodes long.
Episodes
This information is cached from each episode's infobox.
Cyberchase For Real segments
This article or section is incomplete.
Please add information to improve its coverage and accuracy.
This information is cached from each segment's infobox.
Trivia
This is the last season to be produced in standard-definition. It is also the last season to feature the original theme song animation.
Starting with this season, episodes are now mostly focused on environmental topics instead of the mathematical concepts the series was founded on.
Characters
Characters Introduced