"Send in the Clones"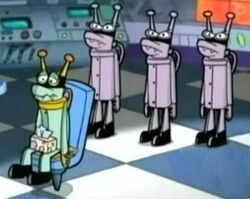 Original air date
February 14, 2002
Directed by
Larry Jacobs
Written by
George Arthur Bloom
Peggy Sarlin
Kristin Laskas Martin
Topic
Multiplication
"Send in the Clones" is the 19th episode of the first season of Cyberchase. It originally aired on February 14, 2002.
Characters
Main Characters
Recurring/Minor Characters
Places
Plot overview
Hacker's plan to clone himself — so he can wreak havoc throughout Cyberspace in many places at once — goes haywire when his newly invented Clonitron clones Delete instead of himself. But Hacker takes advantage of the mishap by sending the Delete clones to take over the R-Fair City cybersite. To complicate matters, every time Delete sneezes his clones multiply even more. As the problem escalates, the kids do the math to keep track of the number of clones as they increase. Meanwhile, Cy Clone, a famous clone catcher sent to the site by Motherboard, vacuums up the clones, while Digit tries to get the Clonitron away from Hacker.
Extras
Transcript
Gallery
External links
Community content is available under
CC-BY-SA
unless otherwise noted.