Shari Spotter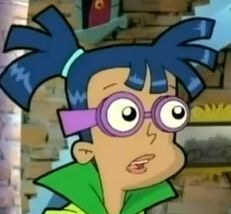 work
Occupation
Student at Frogsnorts, wizard in training
family_restroom
Relatives
JB
sentiment_satisfied
Allies
Matt (crush), Jackie, Inez, Dody, Professor Stumblesnore, Digit
sentiment_extremely_dissatisfied
Enemies
Hacker, Buzz and Delete
record_voice_over
Voice actor
Julie Lemieux
skip_previous
Debut
Shari Spotter and the Cosmic Crumpets
Shari Spotter is a British[citation needed] wizard in training. She and her world seem to be a spoof on the Harry Potter franchise. She becomes very close to Matt, which causes Jackie and Inez to get jealous. Matt remains Shari's friend.
She once asked if Jackie and Inez were his girlfriends. He blushes and embarrassedly replies that they are his friends but not his girlfriends.
The relationship Matt has with Jackie and Inez seems to be a spoof from the Veronia and Betty comic series. Betty, the good girl that is a nerd, is Archie's (a redhead that is also a detective in the show Archie's Weird Mysteries) girlfriend and is also rivals with Veronia, a rich, snobby, but very beautiful woman that also pursues Archie to be his "real true girlfriend." Inez plays a part as Betty and Jackie is Veronica while Matt is Archie.
When Shari comes into the mix she serves as Cheryl Blossom, making Inez and Jackie jealous. Shari can cast magic spells with her wand, and is educated in magic by Professor Stumblesnore, the headmaster of Frogsnorts, the school that she attends. Shari is also assisted by Dody, a cybird who speaks in rhyme that Digit has an interest in.
Physical appearance
Shari is an Afro-British girl. She has mahogany skin and she also has full lips, like Creech. Like Harry Potter, of whom she is a spoof, she wears big glasses, though they are purple, not black. Her dress is light teal with gold stars and moons on it, and her cape is green with a crescent moon pin. Her hair is dark blueish black with highlights which she ties back into a ponytail.
Character bio
A sorcery student from Frogsnorts. Friend of Matt, Jackie, Inez and Digit. Loves school and sports, especially flying around on dragons.
Trivia
Shari Spotter also appears in Cyberolympics as a Team Motherboard player.
Appearances
Gallery
Promotional art
Coloring pages
Screenshots