"Size Me Up"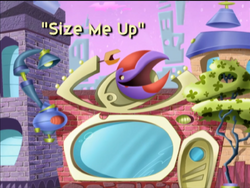 Original air date
July 8, 2002
Directed by
Larry Jacobs
Written by
Dan Elish
George Arthur Bloom
Topic
Scale
"Size Me Up" is the 24th episode of the first season of Cyberchase. It originally aired on July 8, 2002.
Characters
Main Characters
Recurring/Minor Characters
Places
Plot overview
Hacker plans to launch a new virus at Motherboard — one that will crash her hard drive once and for all so he can take over Cyberspace. To stop the kids and Digit from getting in his way, he tricks them into a cybersite from which escape seems impossible. In a confounding juxtaposition of scale and size, the kids first find themselves in a land of giants — then become giants themselves in a land of little people. The kids must cope with these disparities in scale and size and use their brainpower to escape and warn Motherboard before Hacker can launch his virus.
Trivia
Inez does not brush off Matt for calling her "Nezzie" in this episode.
Extras
Transcript
External links
Gallery
Community content is available under
CC-BY-SA
unless otherwise noted.