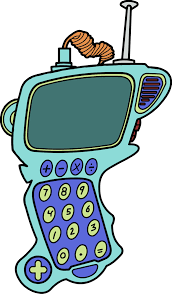 The Skwak Pad[1][2] is a portable computer invented by Dr. Marbles[3], first appearing in "Lost My Marbles". Motherboard describes them as "walkie-talkies and drawing boards rolled into one"[4].
The main four members of the CyberSquad use their Skwak Pads frequently throughout the series, as a radio[5] telecommunications device, an advanced graphing calculator and visual aid for problem-solving, a projector[6], a search engine access point[7], and a camera[8]. The Skwak Pad also has an I/O port on the bottom, which can be used to attach peripheral devices[9].
Appearance
The Skwak Pad is a turquoise, irregularly shaped electronic device, resembling that of a cybikos PDA, exactly one cyber foot in length[3]. It has a coiled orange wire that protrudes from the top, an antenna at the top right, and a keypad below the screen. The purple-blue buttons directly below the screen have mathematical operations, and the yellow-green buttons have numbers and other symbols, very much like a calculator.
In the original pilot, "The Poddleville Case", the Skwak Pad was light blue and had a simpler shape, a white antenna at the top left, a red keypad, and a speaker.
Appearances
Gallery
References
Community content is available under
CC-BY-SA
unless otherwise noted.