"Spellbound"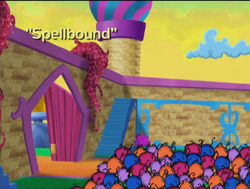 today
Original air date
October 6, 2009
person
Directed by
Brandon Lloyd
person
Written by
Chris Nee
George Arthur Bloom
"Spellbound" is the season 7 finale of Cyberchase. It originally aired on October 6, 2009.
Characters
Main Characters
Recurring/Minor Characters
Places
Plot
When Wicked casts a spell on the Pompadorians to make them all adore her, Jackie and Digit must reproduce the only symbol that can break it – without being able to see what the symbol looks like. Matt and Inez can't get to Pompadoria to help, so they describe the symbol through their Skwak. But how can they describe the odd-looking spell-breaker accurately so Jackie can make a reproduction that works?
Trivia
This is the last episode to air in 2009 and the 2000's decade.
This is the last episode to be produced in 2009.
Extras
For Real Segment: "Bianca Pigs Out"
Transcript
External Links
PBS KIDS - Cyberchase Videos - Spellbound
Gallery